Benvenuto
Benvenuto su "Michael Jackson the King of Love...". Per i nuovi utenti registrati, il Forum vi invita a presentarvi nella sezione "
PRESENTAZIONI
" in modo da ricevere un caloroso benvenuto da parte di tutti gli utenti!!! Il Forum ricorda a tutti gli utenti di leggere sia il regolamento generale, che i regolamenti interni di ogni sezione. Sono poche e semplici regole facili da seguire per facilitare la navigazione di tutti e il nostro lavoro. Buon divertimento a tutti. Grazie
I postatori più attivi del mese

This Forum newborn, you will meet lots of new friends with whom to exchange knowledge, views, comments, memories and best express your love for the great King of Michael Jackson.
We ask all new members to read the rules carefully before starting their adventure in this forum.
SECTIONS FORUM
This Forum is made up of several sections, each of these themes is different. If you wish to insert an argument make sure that it fits the theme of the current section.
POSTING A NEW TOPIC (TOPIC):
To open a new topic, you must go to the section of the Forum in which you want to open it.
Once there, click on NEWTOPIC, located in the upper left corner, and type in the box that will appear (post).
Later you can simply click on SEND.
HOW TO RESPOND TO A TOPIC:
The easiest way is to use the "quick response form" that you will find at the bottom after you open the topic.
Or, you can click on REPLY at the bottom of the topic, and write your post.
HOW TO PUT THE SIGNS:
Just go on PROFILE then signed. Enter your signature and click on Register. Next, go to Preferences and check the YES option "always add his signature."
Please note: the maximum size for the signature are 700 x 300. You'll be prompted into ANNUNCEMENTS Topic or through a private message if your measurements exceed these signatures.
HOW TO INSERT THE 'AVATAR:
Go to -----> PROFILE AVATAR. You can choose a photo from your computer by clicking Browse, or enter the URL of an image from the Internet in the bar.
HOW TO POST AN IMAGE:
To insert an image into a presentation on the Forum, loaded the same on a hosting site (http://it.tinypic.com) and copy the direct link. Then, among all the buttons located just above the post, click the little button that says "Hosting an image", paste this link and click OK.
We require all users to post photos but not too large, these would be preferable clickable thumbnail linking to the photos in original size. In this regard, and recommend services such as
http://photobucket.com/
http://imageshack.us/
both free to create thumbnails automatically.
Or if you post a picture too large, please put it under spoiler. To do this, click on the little button "More" and select "spoiler".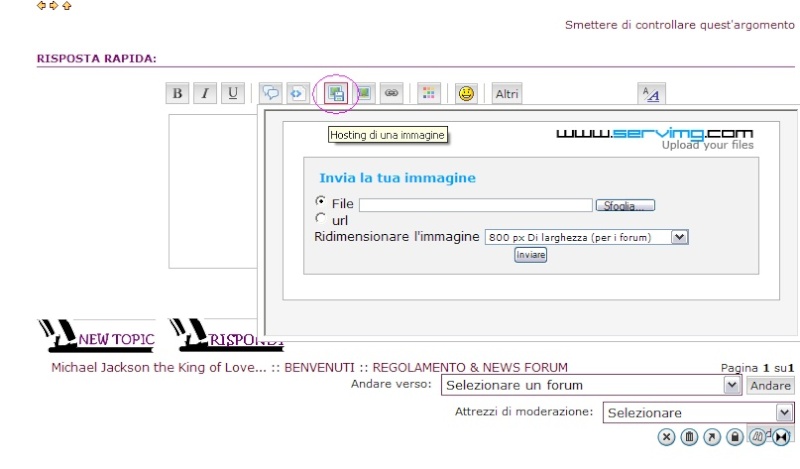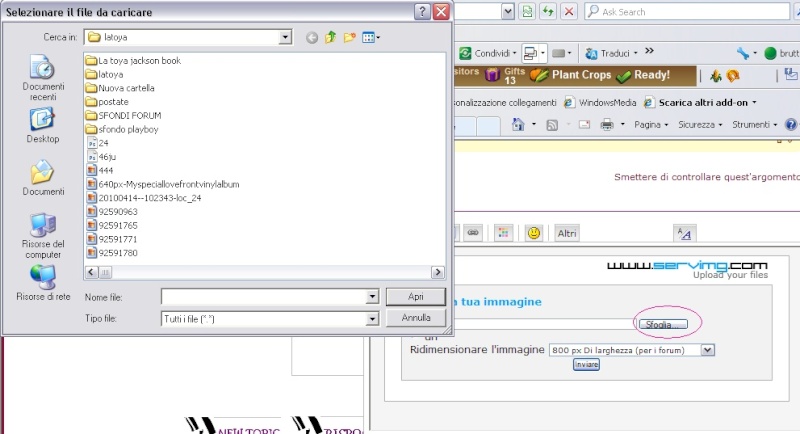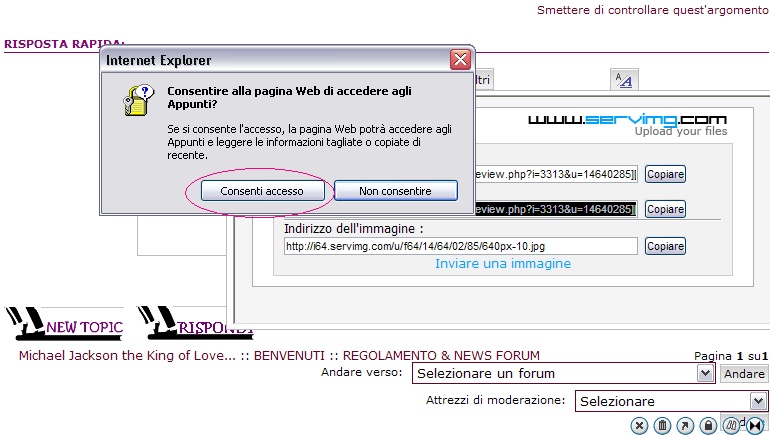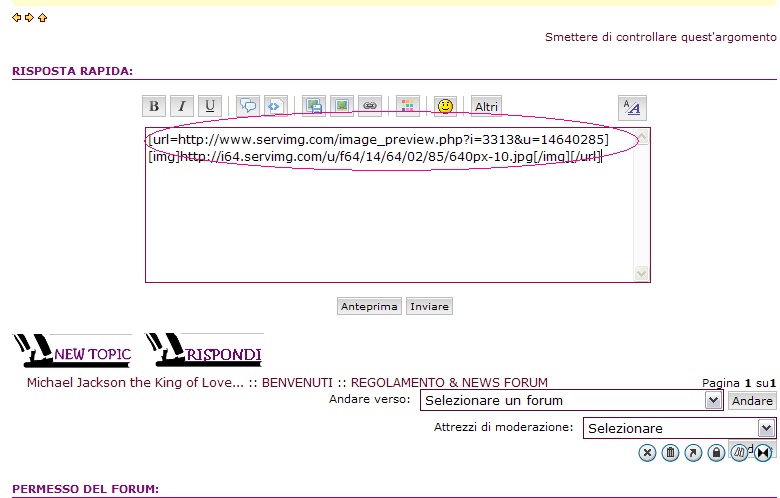 POSTING A VIDEO FROM YOUTUBE:
Go on Youtube and copy the embed video.
Later, come back to the Forum, click on the small button showing a film and paste this embed code. Click OK and the video will load automatically.
HOW TO ENTER TWO OR MORE 'VIDEO FROM YOUTUBE:
Follow the procedure for entering the first video and send the post. Next, click on the Edit button to edit your post just made. Rerun the standard procedure for the inclusion of a video and click on submit again. This procedure should be followed as many times as many videos as you want to insert.
HOW TO USE THE "SEARCH":
In the Home Page of the Forum, just below the logo you will find the "SEARCH" function. It will allow you to discover, through the insertion of one or more keywords, if a topic on a particular topic has already been opened or not.
Use it whenever you want to open one!
REMEMBER:
-Would it be fair NOT to write with abbreviations, particularly the crippling Italian (how to use k instead of ch), as well as a language typical "SMS".
Are typically Jacksonian like abbreviations, such as those used for the songs (YANA = You Are Not Alone, Man In The Mirror = MITM, etc.). Provided, however, that if they do not overuse.
- There are a lot like the custom signatures for users. But it would be correct not to include signatures too large to allow the Forum to scroll through the images better, should not, exceed the dimensions of 250 pixels wide and 600 pixels wide is preferable to use only file type. Jpg,. Gif,. Png or similar (to be avoided, therefore. bmp).
The signature can be composed of both graphics (including Flash animations) and written put together in the same signature, but this should not be too bulky and can not contain offensive or provocative messages.
- Would it be fair to never use foul language (words), to other members of the Forum is just to have a comparison of different opinions among them, but with mutual respect and are absolutely not allowed to Reddit affecting the person of Michael Jackson .
-They are not allowed "NICK NAME" offensive and vulgar. Anyone who did not comply with the rule, will be punished with permanent expulsion from the Forum.
- Would it be fair never write in CAPITAL LETTERS (except in rare cases) if this method of writing used in in Chats and Forums tantamount to yelling at the other States participating in the discussion.
-It is forbidden to offend other Fan Site, Fan Club members or belonging to them or "spamming" other forum without the permission of the administration. One of the purposes of this forum is to create a community of people united by the artist Michael Jackson.
-Would it be fair not to include similar discussions between them, it is preferable however, combine them in one debate, to avoid confusion.
Look carefully before you post if there are already discussions on this subject
- Would be right to nominate their topic titles with "consistent" with its contents ... Avoid if you can type the titles: "Look here," "I did not know this" and so on.
-Would it be fair if you post a News, quoting the same sources from which the News. They are very welcome, News in English (also indicating its source), complete with a translation into Italian. In the case of Gossip or Rumor is preferable to specify clearly in the title, by inserting words such as: [Rumor] [Gossip].
- Please users not to overdo the use of emoticons. These certainly help to make the forum more interesting and fun are very useful in 'express ideas or emotions, but please do not exceed in their use.
-It is absolutely wrong and forbidden to spread copyrighted material here, prohibits the inclusion of links and material (written or audiovisual) commercially available or covered by copyright.
- Please do not write in red because it is used exclusively by the Trustees.
- Please do not write with the yellow color because it is used exclusively by the moderators.
CONCLUSIONS:
The moderating team "mjj king of love" can not be considered in any way responsible for any wrongful act that would be implemented by users. Each user is fully responsible for their actions and will respond in person to any disputes.
We administer, we ask the cooperation of each of you for making the Forum a peaceful and enjoyable place to allow continued growth of the community.
We also encourage all members to ask questions, give advice and suggestions to enable us to improve the best Forum dedicated to our beloved Michael Jackson.
_________________
https://www.facebook.com/pages/Dunikart-il-mondo-dei-gioielli-e-non-solo/191975327483059?ref=hl
Vendita di Gioielli di bigiotteria e gioielli della tradizione sarda visitate questa pagina metti mi piace e se ti piace qualcosa contattami

Admin





Messaggi

: 8626


Data d'iscrizione

: 21.02.10


Età

: 35


Località

: Roma
Umore : Ottimo




---
Permessi di questa sezione del forum:
Non puoi
rispondere agli argomenti in questo forum